I am a Counselling Psychologist, experienced in both group therapy and individual work.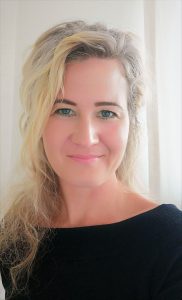 I completed my training at the University of Surrey with a focus on relational therapy and have conducted research into the experience of suicidality, in particular amongst those diagnosed with bipolar disorder as well as into grief counselling.
I have led therapy groups in the NHS and at Universities and have worked with individuals in Secondary Care Mental Health Services in the NHS in a variety of settings including Health Psychology, Psychotherapy Services and Psychology Mental Health Services in Community Mental Health Teams. I have worked with a range of difficulties including depression, anxiety and panic, bipolar disorder, borderline personality disorder, psychosis, Obsessive Compulsive Disorder, Adjustment Disorder, grief and complex bereavement, abuse and trauma as well as self-harm and suicidality.
I offer evidence-based psychological therapies for a wide range of emotional, relational, and behavioural difficulties for adults (18+). Being trained and experienced in a range of therapeutic approaches means that in collaboration with you I will aim to identify the approach most suitable to your individual needs and thinking style.
I am originally from Germany and am able to offer psychotherapy in both English and German language.
Credentials
Qualifications
DPsych (Doctorate) Psychotherapeutic and Counselling Psychology, University of Surrey
BSc (Hons) Psychology, University of Portsmouth
Professional Memberships
Chartered Counselling Psychologist, British Psychological Society (BPS)
Registered Practitioner Psychologist, Health & Care Professions Council (HCPC)
Experience
NE Hants CMHRS, Aldershot Centre for Health, Adult Mental Health Team, Surrey and Borders, NHS
Conifers and Hollies CMHRS, Adult Mental Health Team, Surrey and Borders, NHS
Horizon Centre, Farnham Road Hospital, Department of Psychotherapy, Surrey and Borders, NHS
Royal Hampshire County Hospital, Health Psychology Service, Hampshire Hospitals, NHS Foundation Trust